Leading Rubber Processor & Exporter
Standard Malaysia Rubber (SMR)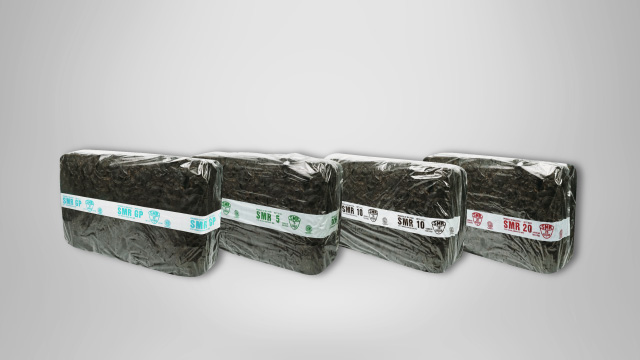 SMR are block rubbers that fulfil the technical specifications of the SMR Scheme determined by MRB. Premium Grade block rubbers are derivatives of SMR which contain the technical specifications of SMR Grades but with additional value-added specifications.
SMR which is made out of 100% natural rubber has high resistance to tearing and fatigue, high tensile strength and low heat accumulation. However, in making a tyre, there are various components and the composition of tyres does not only have natural rubber but other materials (i.e. synthetic rubber and other chemicals) as well. The reason is that synthetic rubber possesses resistance to abrasion, aging and heat. As such, tyre manufacturing companies blend natural and synthetic rubbers to make different type of tyres, amongst other materials, to acquire the favourable properties of both rubbers.
Hence, a tyre manufacturer may purchase SMR from our Group as part of its manufacturing material or purchase Premium Grade block rubber with value-added additives (i.e. other chemicals) based on the specification for their tyre production. The purchase of Premium Grade block rubber would also assist tyre manufactures by improving their production efficiency and cost-saving.
In Malaysia, block rubber produced in accordance to the SMR Scheme is under the purview of MRB. This is to benchmark the standards of rubber produced by various block rubber processing industry players, as well as provide block rubber purchasers with a set of prescribed criteria from which the quality can be ascertained, enabling them to purchase block rubber with technical properties which correspond to the intended applications. The current SMR Grades available in the market are SMR5, SMRGP, SMR10CV, SMR10, SMR20CV and SMR20 which are of different technical parameters and properties.
SMR is produced by treating cup lump with a series of pre-treatment for size reduction and removal of dirt under the wet processing line. Subsequently, granular-sized cup lump is dried and compressed into blocks of solid rubber under the dry processing line, with standard dimension measuring 330 mm by 670 mm by 170 mm, as determined by MRB, which gives the block rubber an approximate weight of 33kg to 35kg each.
PARAMETERS
SMR 5
SMR GP
SMR 10
SMR 20
CONSUMER LIMIT
SHEET/ MATERIAL
BLEND
FIELD GRADE MATERIAL
DIRT (MAX % WT)
0.05
0.08
0.08
0.16
ASH (MAX % WT)
0.60
0.75
0.75
1.00
NITROGEN (MAX % WT)
0.55
0.55
0.55
0.55
0.60
VOLATILE MATTER (MAX % WT)
0.50
0.80
WALLACE RAPID PLASTICITY(P o) (MIN)
30
-
30
30
PLASTICITY RETENTION INDEX (PRI) (MIN)
60
50
50
40
Mean 10 Units Above
MOONEY VISCOSITY ML (1'+4') 100°C
65(+7/-5)